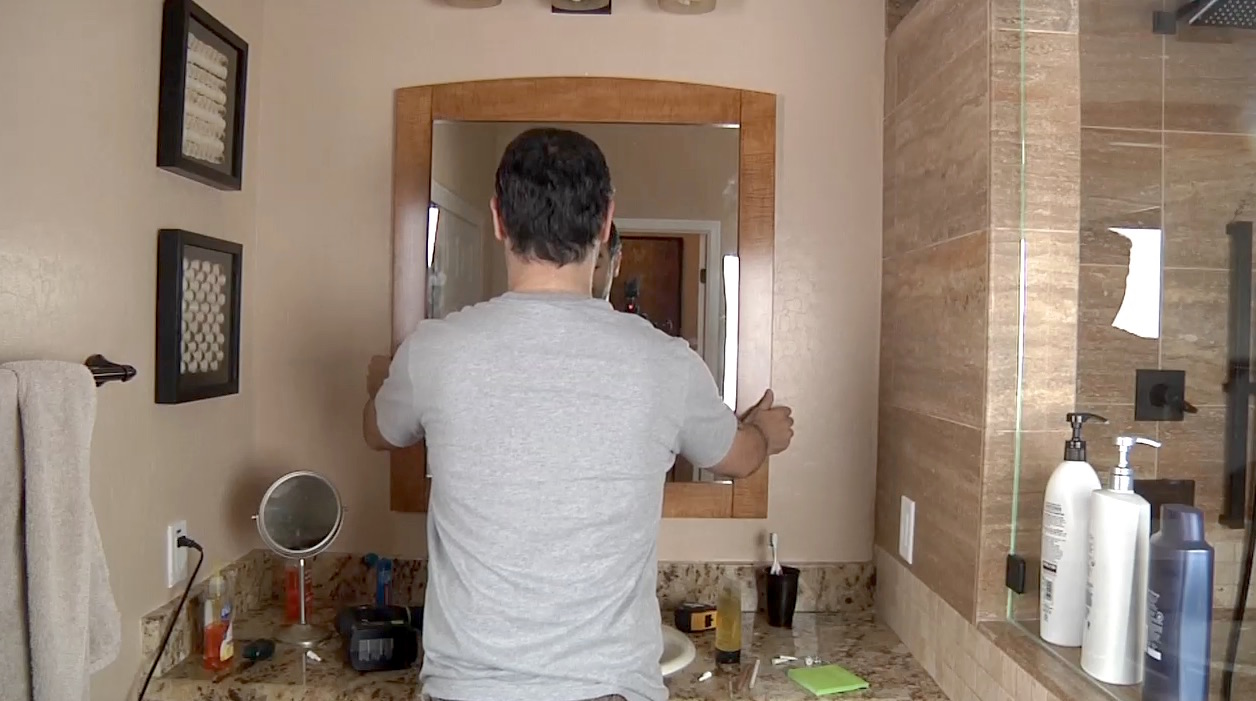 If there is one thing that all interior experts are agreed on, it is the importance of a well-placed mirror in any room. Mirrors are the easiest way to add interest to your home whilst also increasing the illusion of a more spacious place, however hanging one can prove a little tricky at times. Rather than have your DIY attempt turn into a DIY disaster, we have compiled a list of three simple steps to help you hang your mirror perfectly first time.
Location, location, location
The placing of a mirror is just as important as the mirror design itself in order to maximise the full effect. Smaller rooms that may be darker will benefit from a mirror hung right opposite a window as the mirror will flood the room with reflected light. Furthermore, consider the height at which you will hang your mirror, particularly if it is to be used for checking reflections. An ornate gilded mirror hung above a fireplace or in a hallway may look stunning, but if it is hung to high it will be rendered useless to you and your guests. Unless you are looking to create a cluster effect, you also need to consider what other pictures or doors may be in close proximity as you don't want your mirror to be obscured or hung too close to other objects.
Measure twice, hammer once.
Yes, it can seem tempting to simply hammer a nail into the wall by eye to hang your brand new mirror, however many a wall has been ruined by extra holes that were created following an impatient wall hanging.  Think carefully about the positioning of your mirror in relation to other items such as coat hooks, doors, and picture frames, ensuring that it is not too close. Place the mirror on the wall and draw around the mirror frame edges lightly in pencil to mark its position, then measure the hanging distance between the frame edge and the hanging hook or string (stretched to full extent) on the back of the mirror itself. Next measure the distance across the top of the frame to find the middle and mark this on your wall. From this point vertically measure the hanging distance and mark the finishing point, this is where you need to hammer a nail in order for your mirror to be hung within the original pencil marks around your mirrors edge.
When hanging any frames on a wall it is vital that you select the right tools for the job in hand. Most walls will take a simple picture hook but hanging a heavy mirror on a short nail is a recipe for disaster, as there is a strong likelihood that the weight of your much loved mirror will pull the nail out of the wall resulting in a chipped or shattered pane. Make sure you take into account the weight of your frame and also the material of the wall on which it is to be hung. If your mirror is on the larger side, then it is wise to invest in the correct size screw fixing and wall plug that will properly support the weight of your frame and ensure your mirror stays on the wall.