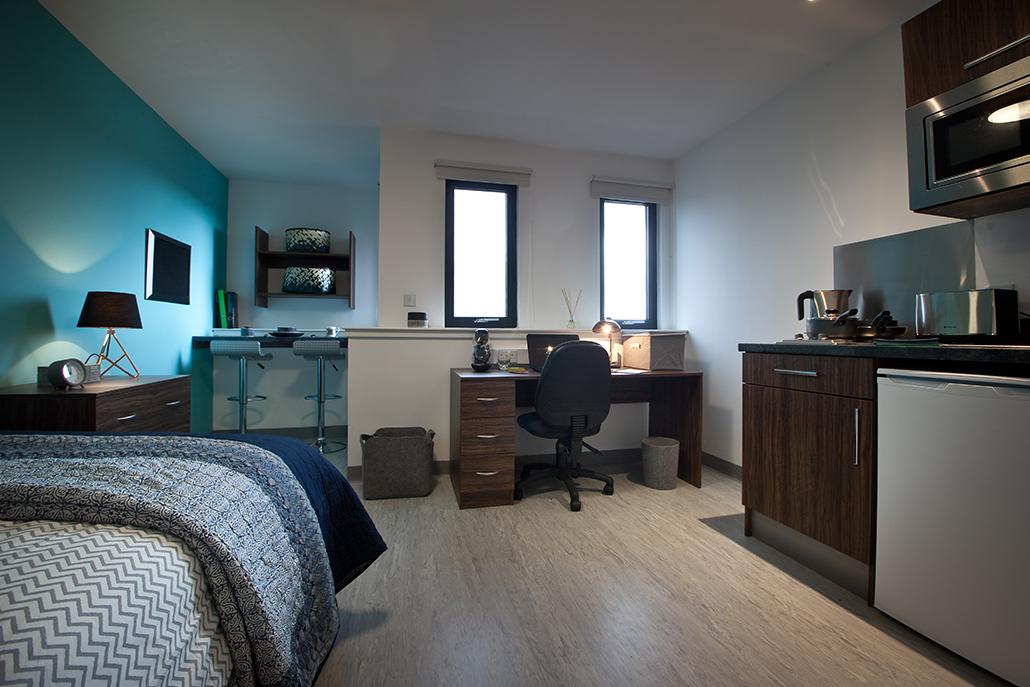 One of the hardest thing to achieve when you're renting student accommodation, Exeter University, is turning it into a home from home. In your first year it's particularly important to get a homely feel in your house because it is common to get homesick, and having a house to stay in that feels welcoming and familiar can help with that.
When you are a postgraduate, you are usually in a better position to do this than undergraduates, because you have years of practise turning student accommodation into somewhere you want to live, rather than somewhere you have to live. Moving also gets so much easier after you have done it for the first time, and comes as much less of a shock. You've had at least a year to get used to being independent and start to recognise what you like having around you, and how you like things to be. Before we move away from home, we can often be so used to the way our parents decorate the house and dictate what we can and can't have in our room, we barely know what to do when we have the opportunity to design our own living space.
Why Does It Need To Be Homely?
A cold, uninviting space with no familiarity and decor we hate isn't going to be easy to swallow semester after semester. It is so important we have somewhere to rest, relax and study that we like, that we enjoy.
One of the most difficult parts of creating a homely atmosphere in student accommodation is the fact you are restricted when it comes to making any adjustments. Your tenancy agreement will say that the house must be the same when you leave it as it was when you moved in, and that's without even thinking about considering the tastes and needs of the people you live with.
However, despite all this, you don't have to live being content with a boring, uninviting space;
Make It Clean
This may sound really simple, but, often student houses can be a little grubby and cleaning them can make a huge difference. The weird soil debris behind the toilet, the uncut grass outside, the greasy cupboards, the dirty carpet – they all make for a space no one really wants to be in. Consider getting together with your housemates to have a big spring clean around the house, and maybe get a rota together to keep cleaning more constant in the future.
Make It Match Your Taste
Painting walls and putting up pictures is likely to be a complete no-go, so take the time to instead focus on other ways to spice up your space. Change the curtains to ones you love, ask if you are allowed to place small tacks in the walls if you remove them when you leave and consider hanging art or mirrors. Remember that any items that belong to the landlord should be kept safe and clean and returned to their original space when you leave.
Enjoy The Rest Of The House
If you live in a house with other people, you will have a kitchen and maybe even a dining area. Use these space to create a homely feel, suggesting you all eat meals together and cook together, and cleaning it up after together as well. You could also use the space for relaxing and cooking, making bread, jam or soups to make the house smell lovely. Or perhaps you have an outdoor space that goes unused. Consider sprucing it up a bit with some furniture and pot plants and have a barbeque.
Embrace Items From Home
Often we can pack items from home that we need, rather than the items that we want or that make us feel at home. A special ornament, photo or favourite blanket can make all the difference, so remember to take these special items with you if it helps you feel more settled in. Just don't take anything too precious, the student life can be energetic, you don't want to break it!
Settle In To Your Local Area
It will never feel like home while you have no idea how to navigate the local area. Make an effort to explore your surroundings – it's free and exciting – you never know what you might find!
Stay Comfortable
Obviously being a student means being thrifty, but that doesn't mean you should skimp on the things that make you comfortable. Things like a TV, WIFI and other luxuries can be catered for with a little foresight and bargain hunting. They might seem unnecessary but they help you relax in your home, and that is important.