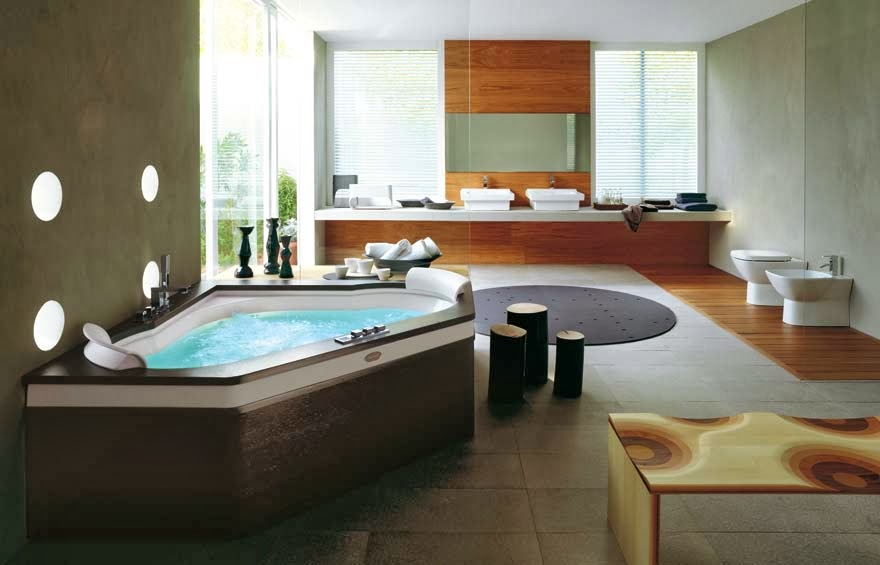 Adding colour to a bathroom is a brilliant way of updating your décor and regenerating interest in the room. You should design your bathroom based around the feelings and emotions you want to associate with the room. So if you dream of tropical sands and deep blue seas opt for a neutral colour with splashes of blue and aquamarine.  
There are a variety of ways that colour can be introduced into your bathroom, here are some of the best!
Adding accessories. Accessories can add a much needed pop of colour to an otherwise dull-looking bathroom. Flowers, whether fresh or faux, will look effortlessly striking against a neutral background and colourful towels or rugs are stylish yet practical.
A statement bath tub. If you have a large enough space then a colourful, statement bathtub is a brilliant way of bringing colour into your bathroom.  A bold bathtub can work to bring all of the other fixtures and fittings together that otherwise may appear to be unmatched.
Adding a feature wall. Just like any other room, a feature wall can work wonders in your bathroom. Using a bold colour or feature wallpaper decorate one wall and finish the others with a neutral, complimentary colour.
Statement tiling. Colourful, textured tiles can invite interest into your bathroom. Try placing them in one area or as an accent in specific places around the room for maximum impact.
Painting fixtures and fittings. Towel railings, basin stands, and cupboards and shelves can all be painted with a splash of colour to contrast or complement the colours chosen for the walls.
Bold blinds and colourful curtains. The way you dress your bathroom windows can have a huge impact on the overall finish of the room. Choose light but brightly coloured blinds or curtains to achieve the best result.
Pictures and artwork. A bright painting or picture hung on the backdrop of a neutral wall is an easy and inventive way of bringing colour into your bathroom.
How would you add a splash of colour to your bathroom décor?