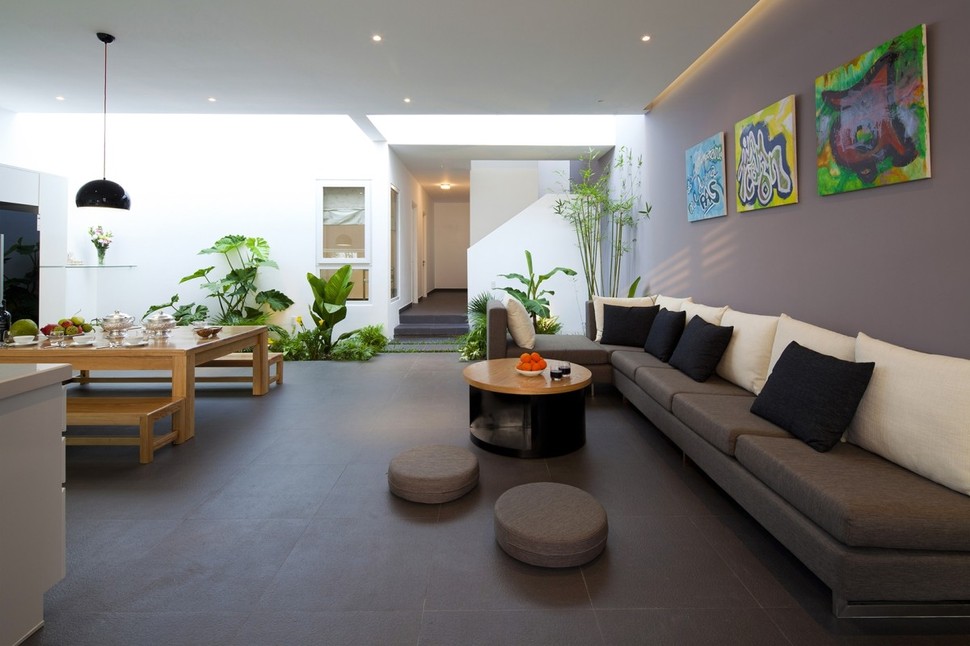 Artificial Privet Topiary Tree
Replica privet or bay trees look striking in matching pairs framing the entrance to your home. For special occasions like Christmas or birthdays the trees can be decorated with ribbons and lights. Look for trees that are UV stable which means they are protected against the sunlight and will not fade over time. Very realistic, no watering needed and will even fool your neighbours into thinking they are real.
Show Your Guests the Way.
Mark out a well maintained pathway from the street to guide your guests safely to your front door. Make sure the path is roughly 3 – 4 feet wide allowing people to walk side by side. Add interest either side of the path with interesting planting or use plant pots to create the walk way. When choosing plants go for non-thirsty plants like lavender or box hedging.
Colour The Point Of Entry.
Add a splash of bright vibrant colour to your front door, choose a colour that suits the style of home and compliments the colour scheme of your front garden. Not all properties suit colourful painted doors, for example period and traditional properties, so do consider this before getting out the paint brush!
Keep It Clear.
Keep shrubs, trees, climbers and other plants cut back to keep the pathway, windows and doorway clear.Keeping plants under control will also allow as much natural light into your home. Plants in containers are easy to maintain and can be moved to rearrange the look of the entrance.
Add Architectural Details.
Research your homes style and add architectural details such as columns, mouldings and brackets to enhance the look of the entrance. These elements will add the finishing touches your home maybe missing. If you have these in place already make sure they are as good as they could be add a fresh lick of paint to brighten the surfaces.
Provide Shelter.
Add a maintenance freedoor canopy to provide shelter from the sun or rain whilst you are fishing out your keys. Easy to install and instantly adds class and elegance to any style home.
Coordinate Fittings and Lights.
Create a classy finished look by coordinating your exterior fittings such as door knockers, door bells; door handles house names/numbers. Using the same finish for all these elements creates a sophisticated polished look. Chrome and polished chrome works well on modern properties whereas black and brass suits traditional styled homes. Use the same finish for porch lights and pathway lightening.
A Place To Seat.
Not many homes in the UK have the space or are designed to have porches or open decking areas in the front garden, where you can create seating areas. But if you have a small court yard garden or bigger then adding a bench or small table and chairs provides somewhere to sit.