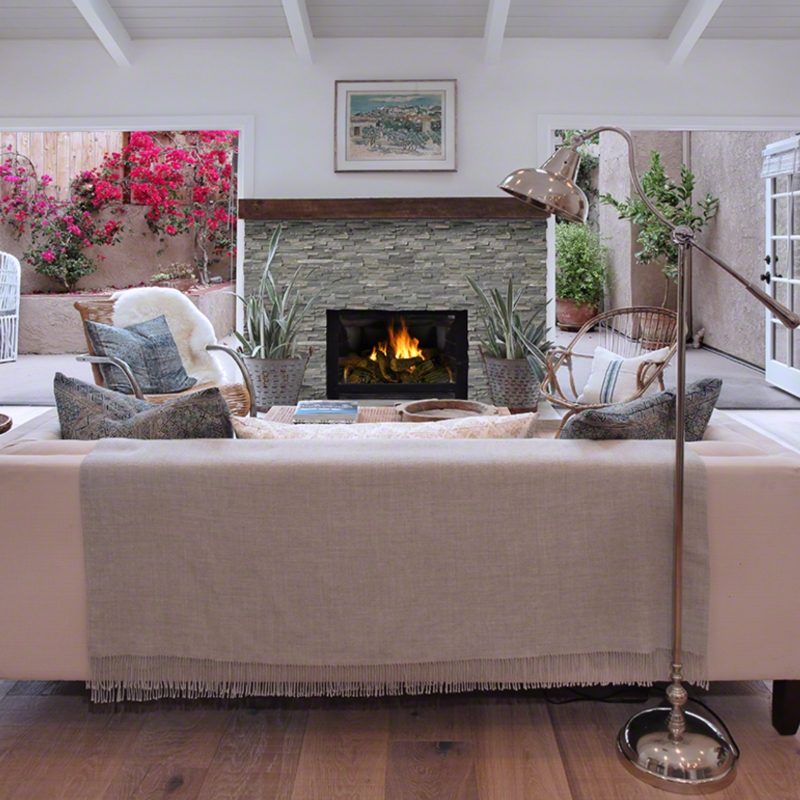 When we consider wall treatments in our homes, all too often we go for easy or traditional choices like paint or wallpaper. While these options have their place, why not go for something with a little more impact, like stone veneer? With high texture and numerous color options, stone veneer has the opportunity to truly transform your home and give it real design impact, whether you're looking at redesigning your indoor or outdoor space.
Most people's first thought when they think of stone veneer used indoors is the fireplace. This is a great place to start using stone veneer, and can create a gorgeous focal point right in the heart of your living space. Since stone veneer is compatible with just about any type of wall material, you can also branch out and use it on an accent wall or even behind a built-in bookcase! In the bathroom, stone veneer gives a spa-like, natural look, making your space a comfortable, relaxing place to get ready in the morning or unwind after a long day. Choose rustic stones for an outdoor-inspired oasis, or something smooth and sleek to turn your home into a modern or contemporary retreat.
While we love the high-impact look of stone veneer indoors, it's a great choice for your outdoor spaces as well. It's durable and lasting even in tough climates and wet or freezing weather, and looks great, too! You may have added a barbeque or outdoor kitchen to your outdoor oasis, and stone veneer can tie these appliances together to create a well-designed, intentional space. Your family and friends will look forward to gathering in your new space. The natural look of stone veneer also means that it will fit in easily with your existing landscaping and indoor design as well, without looking jarring or out of place.
Since a wide range of stones are available in this material, you can also select just about any color you like, from rustic reds and browns to high-impact, dramatic blacks and whites, in all different textures. With such variety available, stone veneer works with any design style, from traditional to contemporary and everything in between. Stone veneer can even transform your space if you're looking for something a little more subtle. Select neutral tones that will fit in with your existing decor, and you'll be able to easily update your design in the future without having to change your major design elements.
Stone veneer is also extremely easy to clean and maintain. Just wash with soap and water! Outdoors, it's easy to rinse off with a garden hose. It doesn't get much easier than that. Best of all, the material is durable and damage-resistant for both indoor and outdoor use. Design your space around stone veneer, and it'll remain a timeless, beautiful accent for your family and friends to enjoy for years to come.